When you want to remove unsightly hair, you may want to settle for the best epilator to do the job. Epilators are great since they offer hair-free and smooth skin for a few weeks.
You have to determine which epilator fits your budget. After all, even the most affordable epilators can remove hair as effectively than the more expensive ones. You just have to find out which epilator is right for you.
Braun Silk-épil 9 9-579 Wet and Dry Cordless Epilator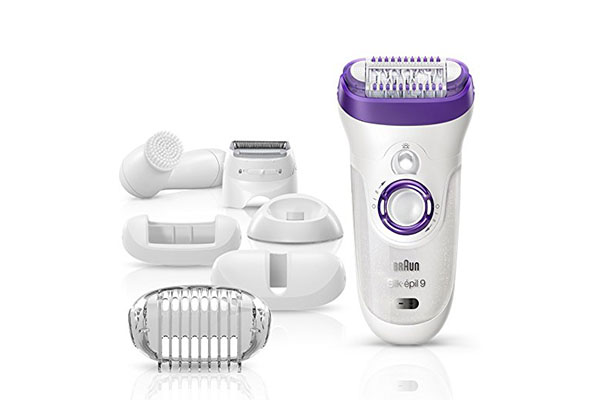 The Braun Silk-épil 9 9-579 Wet and Dry Epilator is the fastest one among the bunch of Braun electric hair removal devices. It comes in a bonus edition, which includes a special facial brush for exfoliation.
>>>> Click Here To See More Pictures on Amazon <<<<
There is no fuss in using this cordless epilator because you can use it when dry or wet. The regular usage of this epilator will make the hair removal process painless over time.
It has an epilation head that is 40 percent wider than the usual Braun epilator heads. This allows a single stroke to remove more hair.
The Braun Silk-épil 9 also comes with longer and wider MicroGrip tweezers that penetrate more deeply. This tweezer technology makes it possible to remove even the shortest of hairs.
The SmartLight feature is another aid for electric hair removal. It guides you as you proceed with your epilator and allows you to spot fine hairs.
First-time users of the Braun Silk-épil 9 might get surprised when the epilator head pivots. The pivoting head will help in providing seamless motions but it could also cause users to lose their tight grip on the device.
Another factor that could distract some users is the pulsating vibrations feature. Although it aims to provide gentle sensations, the vibration may cause users to jerk while using the epilator.
Ladies who have more hair to remove will appreciate the Braun Silk-épil 9. Those who do not want to fuss about wet and dry conditions will also be delighted to use this Braun device.
Pros
You can use it whether wet or dry.
Its wider epilation head removes more hair.
Its MicroGrip tweezers can remove shortest hairs.
The SmartLight feature allows you to see fine hairs.
Cons
The pivoting head might affect the grip.
The pulsating vibrations may cause minimal distractions.
>>>> Click Here To See Customer Reviews & Current Price <<<<
Philips HP6576 Satin Perfect Deluxe Epilator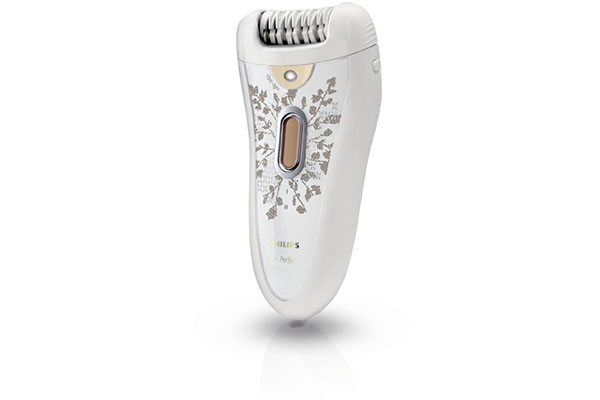 Philips Norelco has released a hypoallergenic epilator called the Philips HP6576 Satin Perfect. Its shaving head can even be washed to ensure that the device is hygienic.
>>>> Click Here To See More Pictures on Amazon <<<<
Women will enjoy the massage system that is incorporated in this epilator. It sends off vibrations to invigorate and loosen up the skin.
Hair removal is also made easy because of the opti-light. This will make you detect and remove fine hairs easily.
Your hair removal time will also be lessened because of the epilator's textured ceramic disc technology. The ceramic discs can remove more hair in just one stroke.
The hair lifter feature is another welcome advantage. This allows you to do away with flat-lying hairs without much effort.
The Satin Perfect Deluxe comes with four other attachments that may confuse new users. Most users are used to using one or two attachments on their epilators, but four separate ones seems too much.
This Philips device also has a two-speed system that could be beneficial for some while possibly harmful for the careless. An adventurous lady may opt for the faster speed, only to find herself unable to control the quicker speed.
Women who have sensitive skin will benefit greatly from using the hypoallergenic Philips Satin Perfect. Those who have many fine and flat-lying hairs will most likely consider using this product.
Pros
It has a stimulating and smoothing massage system.
It has opti-light to help you remove fine hair with ease.
Its textured ceramic discs remove more hair.
Its hair lifter can do away with flat-lying hair.
Cons
It has attachments which could be too many for some.
It has a two-speed system that might be uncontrollable for the careless.
>>>> Click Here To See Customer Reviews & Current Price <<<<
Braun Series 7-7181 Silk Epil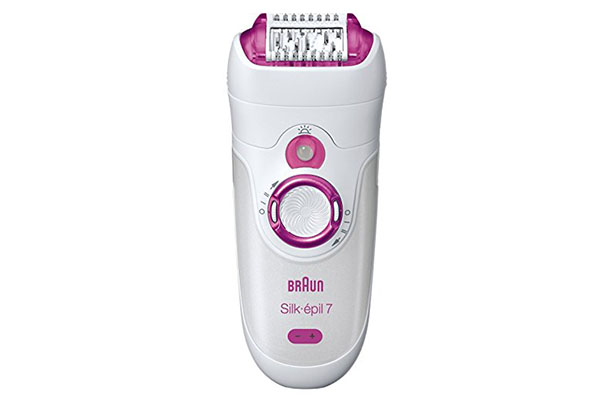 The 7-7181 Silk Epil is another wet and dry electronic hair removal device from Braun. This cordless epilator is waterproof, meaning it will work even under the shower.
>>>> Click Here To See More Pictures on Amazon <<<<
However, you may not use it in the water if it is connected to a recharger dock. This epilator has an automatic shutoff technology that prevents you from using it when attached to a cord.
The epilating process kicks off by using pre-epilating wipes, which are included in the Braun package. The wet wipes aid in moisturizing the skin before hair removal.
This device also provides a much-needed massage prior to the hair removal process. Its massage rollers provide pulsations to stimulate and relieve the skin.
The Braun 7-7181 also has a close-grip feature that eliminates short and fine hairs. Forty tiny tweezers power this feature to produce an intensive hair removal experience.
Ladies who use this have two options for the speed. They can opt for the slower speed to experience a gentler epilating process or they can choose the faster speed to have a more efficient hair removal process.
This cordless epilator can be used to up to 40 minutes. This amount of time might be insufficient for some ladies who are too cautious when epilating. This amount of time may not be enough for new users as well.
Its pivoting head, meanwhile, can only revolve backward and forward by up to 15 degrees. The pivot degree may not be enough to provide seamless epilating.
The 7-7181 Silk Epil suits those who wish to eliminate their short hairs at once. They will have no problems doing so because this Braun epilator can remove hairs as short as 0.5 mm from the root.
Pros
It comes with moisturizing pre-epilating wipes.
It provides a soothing massage before epilation.
It has 40 tweezers to remove even the shortest and finest of hairs.
It has a two-speed personalization feature.
Cons
Its 40-minute cordless time may be inadequate for new users and the cautious.
Its 15-degree pivot may be insufficient.
>>>> Click Here To See Customer Reviews & Current Price <<<<
Braun Silk-épil 7 7-561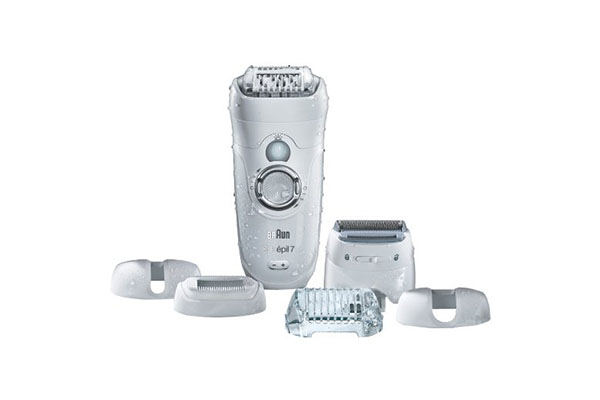 This Braun package features three main products for ladies: a cordless epilator, electric shaver, and bikini trimmer. It has six attachments, the facial cap, trimmer cap, efficiency cap, high frequency massage cap, shaver head, and sensitive area cap.
>>>> Click Here To See More Pictures on Amazon <<<<
All women can use the Silk-épil 7 7-561 because it is suitable for all skin types. Even those with sensitive skin can use this without worry.
This package not only removes unwanted hair on the legs. This epilator can also remov hair on face, arms, underarms, and bikini area.
This device allows you to remove hairs that waxing cannot pull. It can remove hairs as short as 0.5 mm, which is four times shorter that the length that waxing can normally remove.
The Braun 7 7-561 also allows you to eliminate fine hairs throughout your body. Its SmartLight feature helps a lot in spotting the finest of hairs.
This package comes with too many items that could be too much to handle for others. The care and maintenance of these products might be compromised.
One of the extra products might even lead a user to discontinue with epilating. The provision of a shaver head may cause a user to rely on electric shaving instead.
Women with a lot of excess hair will be glad to avail of this package since it has many tools to eliminate unwanted hairs. Those who wish to buy a complete set to target hairs throughout the body will also like this package.
Pros
It is suitable for all skin types.
It can be used on the face, arms, underarms, bikini area, and legs.
It can pull out hairs as short as 0.5 mm.
It can remove fine hairs with the help of SmartLight.
Cons
A user might find it difficult to maintain the package's many items.
A user might turn to electric shaving because of the shaver head add-on.
>>>> Click Here To See Customer Reviews & Current Price <<<<
Panasonic ES-ED90-P Epilator and Shaver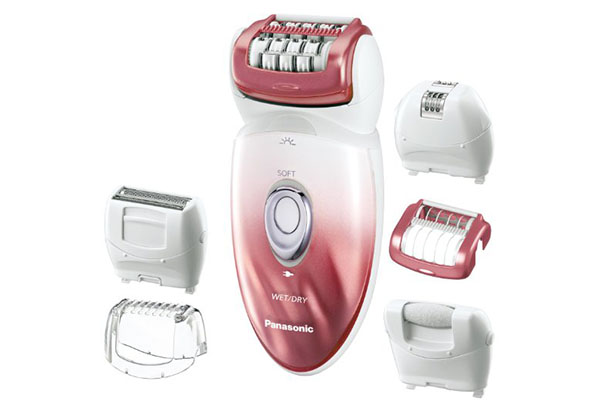 The Panasonic ES-ED90-P is an epilator and electric razor that can be used on both wet and dry conditions. Both the epilator and shaver can be cleaned quickly when placed under warm running water.
>>>> Click Here To See More Pictures on Amazon <<<<
The epilation head attachment has two wide discs and 48 rotating tweezers to remove as many hairs as possible. The epilator can easily adapt to the shapes of the arms and legs because of its 30-degree backward and forward pivots.
The shaver head has a pop-up trimmer that can be used to do away with stray and long hairs. It also has blades and foil that are hypoallergenic.
Those who have low tolerance for pain can use the gentle epilation cap to lessen the tweezers in use. A gentle epilation head can also be used for the bikini area.
The Panasonic ES-ED90-P even comes with add-ons such as the pedicure buffer to care for the feet. The buffer removes dry skin and callouses. A handy travel pouch is also included in this kit.
The epilator head, however, may be too large for some users. The head with 48 tweezers and two wide discs might provide some unease when epilating.
The shaver head requires the replacement of the foil and inner blade every one or two years. This aims to maintain the optimal performance of the razor. Some users, however, might find it tiresome to do such replacements.
Women who want extra shields from pain will be glad to use the Panasonic ES-ED90-P because of its gentle epilation cap and head. Those who want special add-ons over the razor and epilator will also like this package.
Pros
Its epilation head, which has two wide discs and 48 tweezers, can do 30-degree pivots.
Its shaver had a pop-up trimmer and hypoallergenic foil and blades.
It provides a cap and head for gentler epilation experience.
It has add-ons such as the pedicure buffer and travel pouch.
Cons
Its epilation head might be too large for some.
Its shaver foil and blades need to be replaced every one or two years.
>>>> Click Here To See Customer Reviews & Current Price <<<<