Are you worried about dark spots on your face? You are not alone when it comes to this, as many women also obsess with the evenness of their skin tone. Not everyone is born with flawless skin, and the majority gets exposed to the sun on a daily basis.
This is where a dark spot corrector comes in handy. Aside from concealing dark spots caused by sun exposure and aging, it protects the skin from further damage. In addition, a handful of dark spot correctors can even out skin tone.
Clinique 'Even Better' Clinical Dark Spot Corrector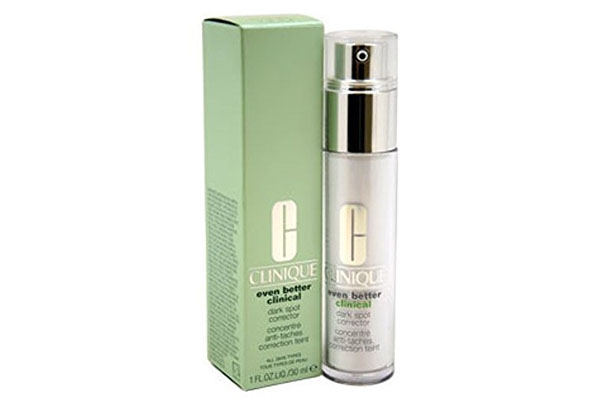 I'm the type who prefers to have a bare face instead of one covered with makeup, and for that I require great skin. The Clinique Even Better Clinical Dark Spot Corrector can provide visible changes within just a few weeks of use.
>>>> Click Here To See More Pictures on Amazon <<<<
One good thing about this product is the fact that it is a prescription-strength serum, which is also gentle enough to use twice a day and all year long.
Another thing is that you can see some shade improvement in the dark spots within four weeks of use. You can use it to help dark spots blend a bit more with the rest of your skin.
It also doesn't come with any strong fragrances. There's none of that heavy floral perfume that many skin care products tend to use. This is great for people who are sensitive to this and tend to be allergic.
Lastly, it's been allergy tested so people who have rather sensitive skin or those who tend to break out when using new face products can now rest assured that they no longer need to worry about those side effects.
One issue is that it isn't as effective on darker acne marks. Yes, it lightens it visibly, but not to the extent where it becomes almost blurred into the skin.
Another is that it can be a little expensive for some, especially if you're used to more drugstore brands. Do know that you're playing for quality, though, and it is still a good investment for your skin.
This product is great for people who want a trusted brand name when it comes to spot lightening products. Clinique is known for their facial care products, after all.
Pros
Prescription strength but gentle
Shade improvement within four weeks
Fragrance-free
Allergy tested
Cons
Isn't as effective for darker acne marks
More on the expensive side
>>>> Click Here To See Customer Reviews & Current Price <<<<
Dark Spot Corrector – Sun Spot Remover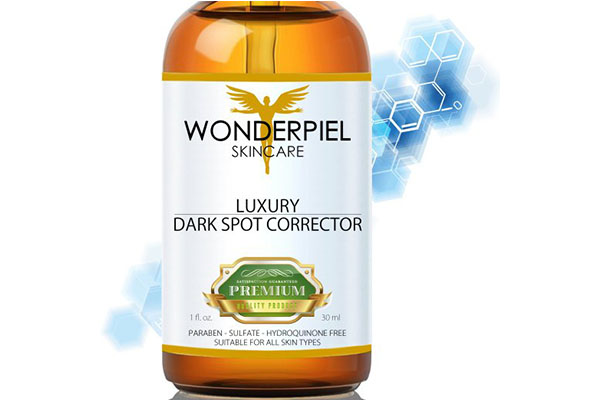 Sunspots, as well as other forms of hyperpigmentation, can really make the skin look dull and aged. Luckily, Wonderpiel's Dark Spot Corrector is now around to aid in achieving a more even skin tone.
>>>> Click Here To See More Pictures on Amazon <<<<
It is one of the most potent tyronsinase inhibitors currently available in the market. If you're prone to dark spots, you would want the strongest treatment available.
However, it does more than just lighten any pigmentation. It can also protect the skin from various pollutants – think air pollution and sun damage. It will help keep the skin's vibrancy.
This product contains antioxidants that really nourish the skin and stimulate cell regeneration. If you want to stay looking youthful, then this can help.
Lastly, it only contains high-grade natural ingredients that were formulated to give you results within 28 days. The best bit? The universal formula works well with all skin types and has been tested to be non-irritating.
One issue is that it is not hypo-allergenic. While it's been proven to be safe for all skin types, people with really sensitive skin need to do a test first before using this.
Another is that it does not contain sunscreen so you will still need to apply one after using the serum to make sure your skin is completely protected throughout the day.
This product is great for people who are looking for a more affordable alternative to the more expensive dark spot correctors out there. It can do the same job for less.
Pros
One of the most potent tyronsinase inhibitors
Protects the skin from pollutants
Contains nourishing antioxidants for anti-aging
All natural ingredients formulated for all skin types
Cons
Is not hypo-allergenic
Does not contain sunscreen
>>>> Click Here To See Customer Reviews & Current Price <<<<
Neutrogena Rapid Tone Repair Moisturizer Dark Spot Corrector Serum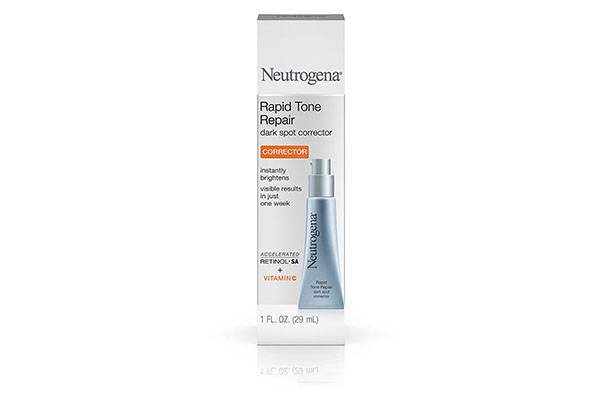 Whenever my skin starts looking dull, I always put on a lemon mask to brighten it. This Neutrogena serum takes all the work out for me, however. I just put in on and let it do its job!
>>>> Click Here To See More Pictures on Amazon <<<<
First off, it contains Vitamin C, which can instantly help bring back life into the skin. The effects are instantaneous—it's like giving your skin the boost it needs.
Next, it contains highly concentrated amounts of accelerated retinol SA, which is the active ingredient that's going to lighten any stubborn dark spots you may have.
The retinol and vitamin c combination can also reduce any visible wrinkles, giving your skin a more hydrated appearance. It gives you a youthful glow.
Lastly, it has potent ingredients, but it's still gentle enough for daily use. It's been formulated to be safe for all types of skin tones, too.
As for issues, one main concern is the size of the product. At only 1 fluid ounces, you'll definitely have to buy this again and again. This can be a hassle for some.
Then there's the price, which is a pretty hefty for a product of this size. However, you are getting what you pay for so it's good to know that the product is worth it.
The serum is best for people who want a recognizable name for their skin care products. For people who want instant results, this is something they should try.
Pros
Contains skin brightening Vitamin C
Has highly concentrated accelerated retino SA for effective lightening
Helps with anti-aging
Gentle enough for everyday use
Cons
The product size
Price point
>>>> Click Here To See Customer Reviews & Current Price <<<<
L'Oreal Paris Youth Code Dark Spot Facial Serum Corrector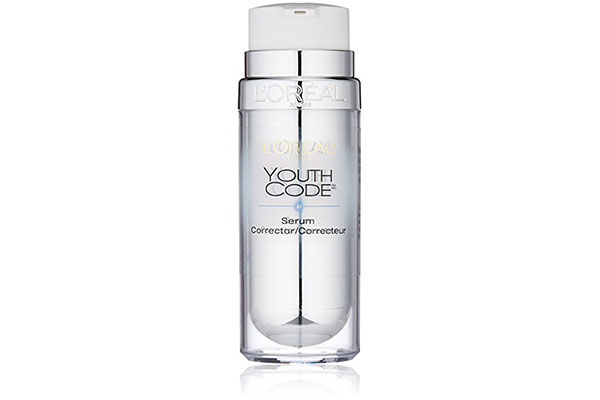 Being outdoors most of the time can leave your skin looking dull while also bringing stubborn dark spots to the surface. L'Oreals Youth Code Dark Spot Serum can help brighten your skin and lighten those problem areas effectively.
>>>> Click Here To See More Pictures on Amazon <<<<
First off, it isn't a cream. It's a serum, which works on hyperpigmentation on the skin and restores its luminosity. This means less is more when using it. A couple of drops is enough for the whole face.
The good thing about this product is that you can use it with your favorite facial cream to further boost its effectiveness. A day out in the sun can leave your skin dry, but this really nourishes it deeply.
When used for daytime, it's great because it absorbs quickly. You won't end up feeling greasy with it on and its potent ingredients penetrate the skin easily too. That means faster results.
Then there's the anti-aging properties. Even in your early twenties, sun damage can cause fine lines and wrinkles to form so it's always great to find serums that help combat and delay all of that.
One issue about the product is that it is not hypo-allergenic. While it did not cause any breakouts on my skin, people who have more sensitive ones may want to do a patch test first before using it.
The size of the bottle is also quite lacking. It won't last that long because of its small size, making it not that cost-effective.
Nevertheless, it is a great product and people who want a quick-absorbing serum that they can use within the day will certainly enjoy it.
Pros
Reduces hyperpigmentation and restores luminosity
Can be used with facial creams to enhance effectiveness
Can be used during the daytime for faster results
Has anti-aging properties.
Cons
Not hypo-allergenic
Small bottle
>>>> Click Here To See Customer Reviews & Current Price <<<<
Best Age Spot Remover – Dark Spot Corrector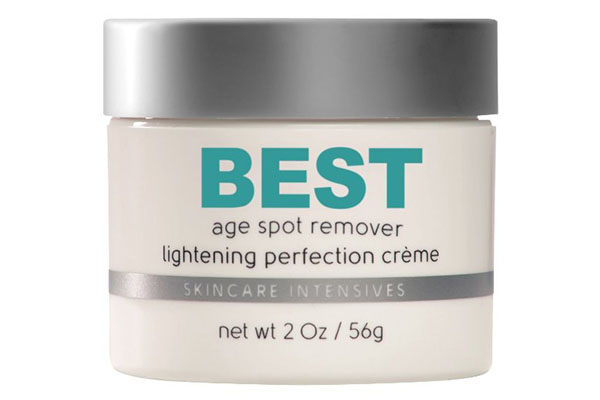 Hyperpigmentation and acne scarring can make the skin look dull. It also takes away the vibrancy it used to have. With the Best Age Spot Remover, you can get brighter and more youthful skin again.
>>>> Click Here To See More Pictures on Amazon <<<<
First off, this is one of the most potent dark spot correctors available over the counter. No prescription needed.
It contains natural ingredients, so it will not be harsh on the skin. Rose water, aloe and lavender oil are just some of the nourishing herbs infused into it.
The product is also recommended by physicians for treating Rosacea, dark spots, age spots and even acne scars. It helps lighten those and make them less visible.
Lastly, you'd be glad to know that this product was created CRUELTY-FREE. It was not tested on animals in any manner so you can use it without feeling any guilt.
One issue about this product is that it takes about a month for results to appear. Use it daily – once in the morning and again at night. A little diligence goes a long way.
Another is that whilst you're given a generous amount of the product, the price can be a little expensive. It's almost twice as those of other similar serums and creams.
This product is great for people who want a cream that will help cure other skin issues aside from dark spots. Anything that will remedy acne scars is certainly worth the try.
Pros
No prescription needed
Contains natural ingredients known to nourish and brighten skin
Can be used to treat other skin issues
Cruelty-free
Cons
Results can take about a month to be visible
Price point is a little expensive than most
>>>> Click Here To See Customer Reviews & Current Price <<<<